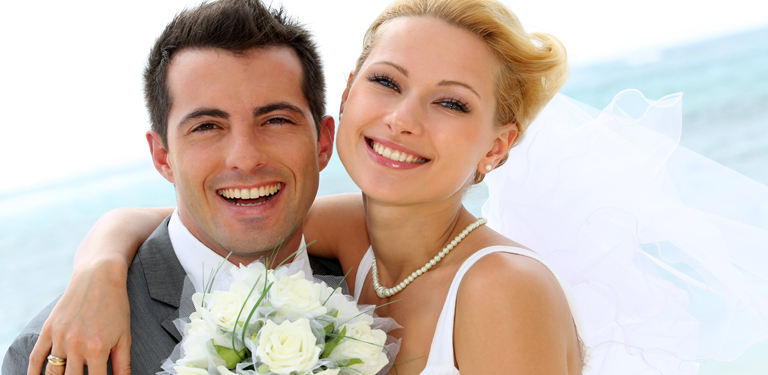 Premium Custom Weddings
Try our Premium Custom Weddings
At Enlace Ceremonies we know how to celebrate and look forward to sharing the most special day of a Bride and Groom's lives. A marriage is a once in a lifetime event that unites two people in their special wedding ceremony, so it is important to us to understand what you, as a couple, expect on your special day. We will assist in the wedding planning, setting the tone and feel of the ceremony, the vows, music choices, poems, special verses and those special stories that a couple has experienced, will all play a part in creating an experience to remember for a lifetime.
Premium Custom Ceremony Includes:
Your wedding officiant.
Complimentary initial consultation.
Unlimited ceremony-writing/review meetings.
Unlimited telephone and email consultations.
Access to Enlace Ceremonies vast resources of ceremony ideas, with an unlimited number of additional options.
Ability to add ceremonial elements that are not part of Enlace Ceremonies's component offering (useful if you want to include little-known cultural/religious features).
An individually created ceremony that is uniquely yours.
Pre-wedding day coordination of wedding ceremony participants (readers/speakers, singers, musicians, photographers).
Facilitation of rehearsal.
On-site coordination 60 minutes prior to the ceremony.
Performing of Ceremony.
Filing of the marriage license.
Our List of Wedding Ceremonies:
Elopement Ceremony
Simple Wedding Ceremony
Custom Wedding Ceremony
Premium Custom Weddings
Vow Renewal
DIY Wedding Ceremony
Free, No-Obligation Consultations – Hablamos Español
Enlace Ceremonies
1830 Truxtun Ave. Suite 211
Bakersfield, CA 93301
Phone: 661.237.7097
Email: enlaceweddings@gmail.com
Serving California in and around the Local Communities of:
Bakersfield, CA- Oildale, CA – Lamont, CA  – Arvin, CA – Shafter, CA – Wasco, CA – Taft, CA – Delano, CA – Tehachapi, CA – Porterville, CA – Lindsay, CA – Corcoran, CA – Tulare CA, – Exeter, CA – Farmersville, CA – Fillmore, CA – Los Angeles, CA – Sacramento, CA.