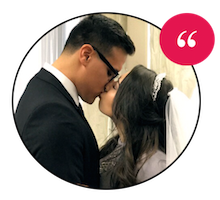 Wendy Ruiz
Bakersfield, CA
Miroslava was beautiful – she was very down to earth and professional. She was friendly and approachable in the consultation process. We were thrilled with the ceremony.
Sandra & Jessie Hinoiosa
Bakersfield, CA.
In August of 2015 I had the privilege of having Dora lead my ceremony and marry my husband and I. Nothing could prepare me for the beautiful words about marriage and prayer that she gave. Even though our ceremony was short and simple it was absolutely perfect. Dora was professional and the way she spoke about marriage my vows I will definitely have dora lead my ceremony again as I refer her to everyone. Thank you Dora for making our day extra special. -Sandra & Jessie Hinoiosa
Rosario and Eddie
Bakersfield, CA
Miroslava did and an excellent job with our wedding. She was happy to help with ideas and sample ceremonies but also happy to let us put our touches in the ceremony. We highly recommend her.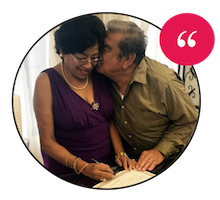 Mayra and Jose Estrada
Bakersfield CA.
Miroslava was so approachable from the minute we met her! Very friendly and happy to help in anyway possible. She gave us a lot of guidance leading up to the day, she also assisted us with the writing of our vowels.